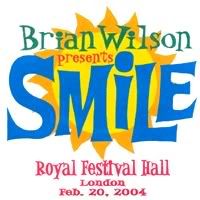 Request #2: first live show of "
Brian Wilson Presents SMiLE
": Royal Festival Hall, London, Feb. 20th, 2004
"Legendary" seems to be an appropriate word to describe this particular show. I don't usually collect live shows, but as a BB/BW fan, I just
had
to have this one!
While listening to the show, you'll notice that Brian wasn't exactly "into it" - but I guess we can all understand why, and he seems to become more relaxed near the end of the concert anyway.
The show is divided into 3 mp3s (one for each section: americana, childhood, the elements). The quality is good enough (128 kbps), considering it's not a soundboard recording. Oh, and the artwork is included!
So, whether you were there or not on that evening (I certainly wish I had been there!), enjoy this one!
Main link:
#1, click here
Alternate links: #2 / #3 / #4 / #5 / #6