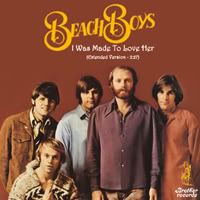 I don't know if you're aware of the "long version" of "
I Was Made To Love Her
" (the one featured in the "
Rarities
" album, amongst other boots)... Basically, it's the LP version with an acapella tag at the end. When you listen to it, the "tag" sounds out of place. And that's because it
is
out of place!
I was listening to the Stevie Wonder version this morning, and I noticed that this "tag" was present somewhere in the middle of the song. So I just tried to do a similar mix with the Beach Boys version!
There are 10 different links, so if one of them doesn't work, try another one.
Here you go:
1
/
2
/
3
/
4
/
5
/
6
/
7
/
8
/
9
/
10
Enjoy!
More reuploads are on their way!