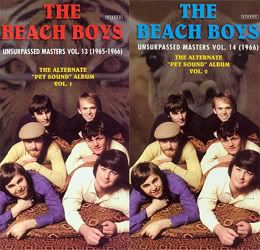 Hmm, you might have noticed that this isn't Vol. 18 as expected, but rather Vol. 13 and Vol.14 - I'm making an exception because someone requested this particular boot, so I'm happy to fulfill his request promptly! This 8-CD (!) set focuses on the"
Pet Sounds
" album - kind of a "
Pet Sounds Sessions Deluxe
"
.


It's worth noting that Sloop John B. isn't covered by this release, as it was already covered in Vol. 12.
Specific artwork is included in each .rar file!
Vol. 13 - Disc 1:
1
/
2
/
3
/
4
Vol. 13 - Disc 2:
1
/
2
/
3
/
4
Vol. 13 - Disc 3:
1
/
2
/
3
/
4
Vol. 13 - Disc 4:
1
/
2
/
3
/
4
Vol. 14 - Disc 1:
1
/
2
/
3
/
4
Vol. 14 - Disc 2:
1
/
2
/
3
/
4
Vol. 14 - Disc 3:
1
/
2
/
3
/
4
Vol. 14 - Disc 4:
1
/
2
/
3
/
4