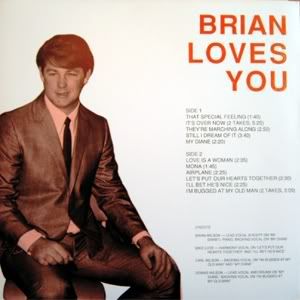 This boot is one of my favourites. It contains songs recorded by Brian with or without the presence of other Beach Boys, around 1976 and 1977. Amongst the tracks, there's a yet-unreleased song titled "
That Special Feeling
"; "
They're Marching Along
", the "prototype" for "
Little Children
" (on Brian's 1988 solo album); an alternate version of "
My Diane
"; two takes of "
I'm Bugged At My Old Man
", recorded for a TV special and featuring Dennis and Carl, and finally demos for many "
Adult Child
" (unreleased album) and "
Love You
" songs.
My favourite on this release: the "
I'll Bet He's Nice
" demo. It showcases Brian's famous "piano-banging" style, and you can hear Mike Love near the end of the song, singing along with Brian!
This upload actually comes from a friend of mine, who ripped his vinyl into 192k mp3s. Thanks to him for allowing me to post it here!
Links (artwork included):
1
/
2
/
3
/
4
/
5
/
6
/
7
/
8
Tracklist:
Side A:
01. That Special Feeling (demo)
02. It's Over Now (demo)
03. It's Over Now (demo)
04. They're Marching Along (aka Little Children, demo)
05. Still I Dream Of It (demo)
06. My Diane (alternate version)

Side B:
01. Love Is A Woman (demo)
02. Mona (demo)
03. Airplane (demo)
04. Let's Put Our Hearts Together (demo)
05. I'll Bet He's Nice (demo)
06. I'm Bugged At My Old Man (TV special rehearsal)
07. I'm Bugged At My Old Man (TV special version)

P.S. There might be some people here that haven't listened to the 1977 "

Love You

" album yet. I advise them to listen to it - at first listen it might sound a bit weird, but if you take the time to "absorb" the music you'll find yourself thinking that it's one of the best Beach Boys albums. *

I

* certainly do. ;)